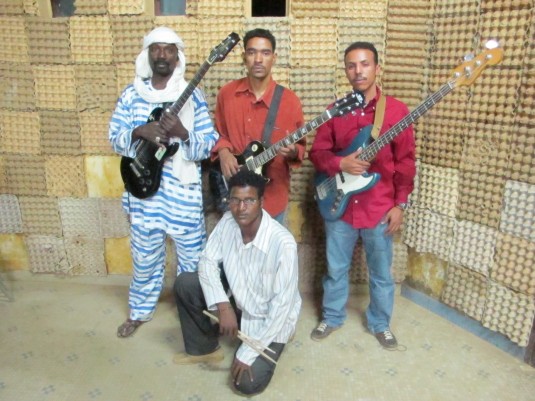 The latest band to make the transition from the rich catalog of Sublime Frequencies recordings to the live stages of Europe is perhaps the most anticipated of them all, the one we have been waiting for since "Guitars From Agadez Vol. 1" first stormed from the speakers and sold out in record time four years ago: Group Inerane.
Simmering up from the rebel heart of the Tuareg guitar scene, Group Inerane are a rough-hewn, tranced-out psychedelic juggernaut careering off the path beaten to the West by their peers Tinariwen and Group Bombino, coursing instead along a thrillingly scuzzed-up parallel lineage to Link Wray, The Velvet Underground and even Creedence Clearwater Revival.
Centered around band leader and six-string god Bib Ahmed, Inerane hail from Agadez, Niger, one of the most volatile zones in West Africa. Out of this vast arid land, long beset by political unrest, comes the Inerane sound, fit to bring tumultuous joy to any party on the globe: ecstatic and electrified Saharan guitar modes entangle/disentangle themselves around mantric vocals and propulsive trap kit drum attack.
Genuinely rocking and raw as hell, at points the fuzz descends and Inerane seem to bore their way to the mainline of rock n' roll itself.
A second Inerane album, vol. 3 of the "Guitars From Agadez" series, came out last year and gives further call to rejoice.
"This music is plain wonderful, life-affirming, and celebratory any way you look at it, and if you consider its origins, even more so" – Tiny Mix Tapes
"Group Inerane … encompasses the most exciting aspects of the Tuareg guitar style … a new form of Saharan psychedelia" – Dusted
Tickets (150 sek or 200 sek at box office in case there are tickets left): http://www.simpelsignup.se/event/7668-group-inerane