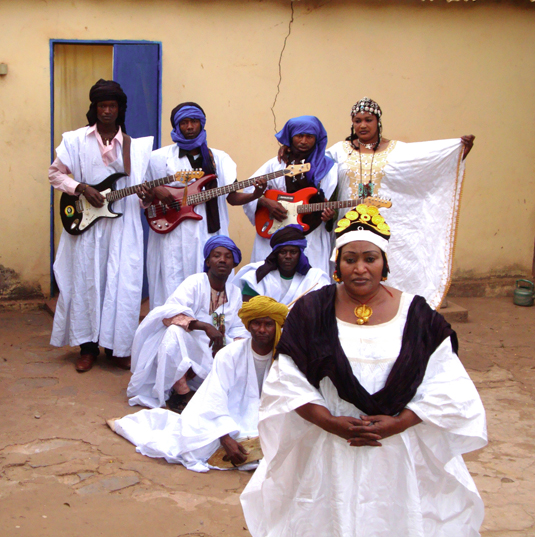 One of this year's biggest artists is still virtually unknown to many musically interested people in Sweden. This is what makes Clandestino Festival what it is –a journey of discovery in the music world. This time it is about the musicians' slow sizzling electric guitar, the dancing of the n'goni and fiddle, percussion thumps – bumps and rhythmic tweaks swing, melting into the powerful weaving throaty vocals of Kharia Arby "The Nightingale of the North." Khaira Arby has been singing for two decades as a beloved songstress in her own country and has, following the well acclaimed album Timbuktu Tarab, gained recognition in the West .
Khaira Arby and her band are a family affair that sing and play the stories of their struggles, lived joys and sorrows of the present, past and future of Timbuktu in Northern Mali as well as their travels. As Arby says, "Trab is our land, our home, Timbuktu. Its history, its mystery, everything." The musical reckoning that is Khaira Arby and her fellow musicians use the impact of music as social criticism to "wake up" people to issues close to home like women's struggles, war and love.
"Timbuktu is multicultural," says Arby, and this is reflected in the intricate blending they make of more traditional styles with edgier varied ones, breaking and shifting music within four languages sinking the feet into the ground, lifting the soul and calling the body to move.