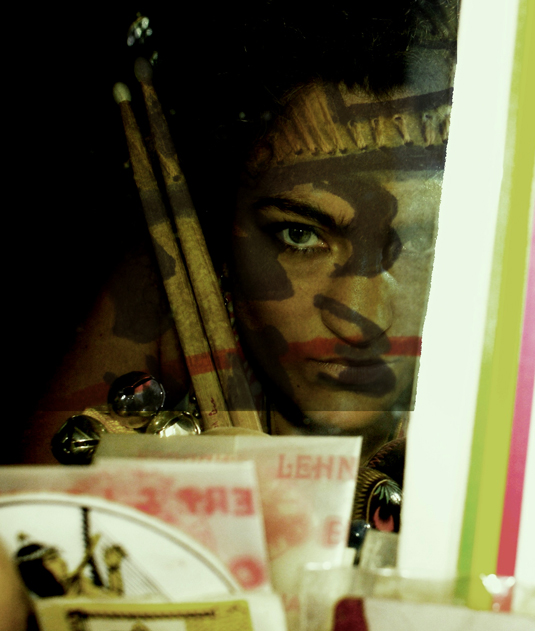 In her latest album "That Which Death Cannot Destroy" Mutamassik plays "…from a thousand graves …. lives on … resurrecting … deafening echoes … but the spirit lives on " Her thundering beats are so broken and immediate they trash everything in their vicinity, and her instrumental work is violent, raw and immediate to the point of physicality. Mutammassik's death defying album literally transpires her sweat from the freezing cold cave where she has made her (latest) home, in the mountains of Northern Italy. Armed with a double set of long johns she wrestles her beaten technology and instruments made of skin, wood and metal. To Mutamassik, musical existence entails an everyday battle to keep her body and gear warm while gathering the most basic means of subsistence: firewood, water and sustenance. At the same time "That Which Death Cannot Destroy" transpires Mutamassik's translocal urban existence pounding the streets of New York City and Cairo. The album is the result of generations of migration, colonization, resistance and survival. But, in the words of Mutamassik: "If you were not having to choose between killing and being killed; life is pretty good."
The question is not which famous artists Mutamassik has played with throughout her years as a transnational artist. The question is rather whom has played with HER. As a producer and musician, she has released ground breaking albums and EPs since the 1990s, and she has been a legendary turntablist DJ even longer. At the Way Out West festival in Gothenburg 2010 (for those of you who missed this fact) Mutamassik's DJ set MASSACRED the whole thing. Her devastating performance at this festival made international hip hop legends look like school boys. Mutamassik handles her turntables like a virtuoso handles her instruments, the difference being that Mutamassik scratches her records like a cold blooded murderer. Mutamassik's music can be described as a full frontal between Egyptian and afro-asian Sa'aidi hardcore Baladi Breakbeats –and electronic hip hop/ hardstep/ junglist punk.
With her "mestizo blood drums" Mutamassik manages to simultaneously hypnotize and wake-us-the-fuck-up with a face slap. Mutamassik's middle finger is always ready to remind us of migrant resourcefulness. Mutamassik leads her life and her music like a head-butt against poverty and oppression. She blasts us with all of this might and she has already paid for it big time in the currency of soul.