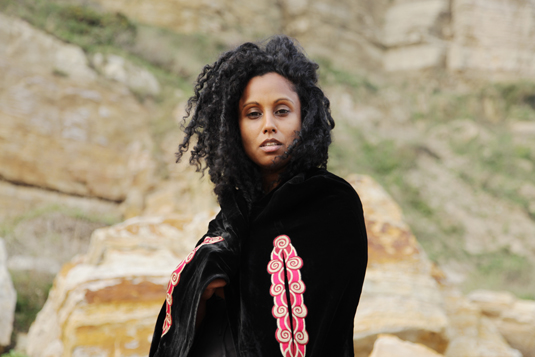 Since 2001 with her debut album 'Salt Rain', Tamil Londoner Susheela Raman has established herself as one of the most innovative artists to emerge from the South Asian diaspora. With partner and producer, guitarist Sam Mills (23 Skidoo) at the helm, a classically trained voice retains a rebellious streak to present a history through a new gateway using rich textures, an athletic range of tones, languages, and emotions.
Her fourth and latest album 'Vel' (OuterIndia 2011) offers further research into Carnatic music which dates back to 16th Century India. It sits comfortably alongside the Blues-infused Tony Allen led rhythm of the song 'Vel Undu', which also features the age old Thavil, a double-headed drum from Southern Asia.
Lately, she has also collaborated with Tamil and Rajastani musicians as well as curated club Outerindia in London. This is a persistently traveling artist in development that we are in the presence of.  No time for stagnation here. This we witness not in the least in her earlier and already slightly classic albums:"Salt Rain" (2001), "Love Trap" (2003) "Music for Crocodiles" (2005) and '33 1/3' (2007).
Susheela's music allows the listener to eavesdrop on characters having conversations and dialog with deities and demons. Its political dimension is subtle yet stands forthright. Devotional, trance-inducing music that possesses vanished friends and empowers those within listening range. In your hands you have a powerful sword to defend principles, tradition and seek new paths of understanding and enlightenment.