Conjunto Angola 70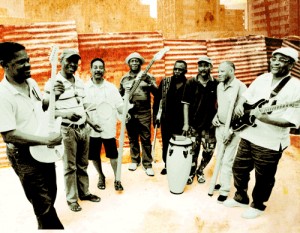 The 1970's in Angola were a dynamic time in many ways. It was a violent decade: first there was the war against Portugal. When Angola was finally liberated from its colonial masters in 1975, the variuos guerillas turned on each other, some with the support of the Soviet union, others helped by the west. In spite of the wars there was new hope for the future as a sovereign state, and many started thinking about ways to reinvent the traditional culture of this West African country. The capitol Luanda became a melting pot for a number of musical styles which would blend into a successful new, Pan-African fusion: Traditional Angolan rhythms, psychedelic guitar playing from The Congo, and latino grooves from Cuba all mingled with the raw power of local carneval bands. Rhythms like Rebita, Semba and Merengue were in vogue in Luanda. But the most striking feature of the music of that time are the high pitched polyphonic guitar lines, at ones endlessly varied yet monotonous to the degree that one could in some ways compare them to the minimalist movement that was taking place in the USA at roughly the same time.
In recent years the recordings of this musical explosion have been distributed world wide thanks to compilations like "Angola Soundtrack". But times have changed and the songs are not often played live in Angola these days. To bring new life to the tradition and to the dreams that were born through the newly won freedom back in the seventies, guitarist Boto Trindade, once a member of Os Bongos, started an all-star band which would play in the old style. In order to find the very best musicians available, he first had to look through all of Luanda. He came up with an impressive line up:
Percussion genious Joãozinho Morgado; Tedy Nsingi, leader of Luanda's radio orchestra and the best guitarist in town; dikanza veteran Raúl Tullingas, and singer Ze Cax Janota. Then there's the rhythm section: Chico Monte Negro, bongos; Carlitos Timoteo, bass; and Dulce Trindade, rhythm guitar. The band took the name Conjunto Angola 70 and quickly realized that not only Africa but also Europe had been waiting eagerly to hear the songs from Luanda's musical golden age performed again.