Elfin Saddle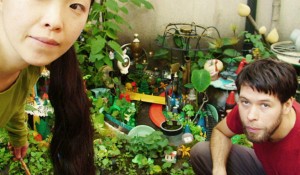 Emi Honda and Jordan McKenzie were born on opposit sides of the Pacific ocean, she in Japan and he in Canada. Their paths crossed when they both worked as artists in Vancouver, and they soon found themselves collaborating on a number of installations: peculiar miniature landscapes, clearly the result of a deep interest in structures and materials found in nature: the name Elfin Saddle derives from the duo's favorite fungus.
Both Honda and McKenzie had been writing music and soon started busking. They moved to Montreal and started getting serious about making music together. Songs started developing as organically as their art installations: acoustic, wood-like sounds were playfully produced out of accordions, banjos, a ukulele and a tiny drumkit equipped with little bells and cymbals. Both members are skilled multi instrumentalists and easily shift from one instrument to another mid-song.
Elfin Saddle can be described as experimental, acoustic folk music with influences from german umpah-music, East European melodies, klezmer and Japanese music. It is strange, beautiful and sometimes a little spooky. The melodies can be almost childishly simple, but they grow out of a kind of sulfurous soil that brings to mind the likes of Neutral Milk Hotel or maybe Tom Waits. Emi Honda singing (in Japanese and English) is both powerful and accurate. Elfin Saddle has recorded two albums so far, the latest is called Devastates and was released in March of this year by Constellation. The duo has also gained recognition for its film "Wurld", based on an immensely detailed installation they built in their back yard.