Fenster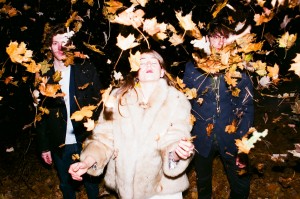 "Bones" is the name of German-American band Fenster – a very suitable name for a very bare collection of pop skeletons. Melodic and accessible in an almost mainstream sort of way, but at the same time deconstructed, and free of clichés; not trying too hard to be hit songs. Every single sound seems to be there for a specific reason, all moving according to strict laws of physics through the vast emptiness of aural space. Guitars moving through high pitch territories are creating pointilistic patterns in strange remote pop galaxies up there in the night sky. Waves of noise and what appears to be German radio transmissions on the AM band. A circuit bent synth makes mysterious deformed sounds. The mood in Fenster's music could be described as somewhere inbetween dream pop and bands like Arcade Fire, while the quiet, focused performance brings to mind Nick Drake's finest moments.
Fenster was founded in Berlin by native Jonathan Jarzyna, and New Yorker JJ Weihl. They met late one night on a balcony, started jamming some tunes on guitar and bass and before they knew formed a band together. They started playing Johnny Cash and Buddy Holly covers in pubs and bars for a living and simultaniously wrote songs of their own. Once they had enough material the duo recorded their debut album in a Berlin basement with producer Tadklimp. The soundwaves from the sessions made the glass fall out of a window frame and hit JJ Weihl in the head – she prefers not to speculate whether the bizarre incident was an omen or a blessing.
The recording process was playful: The banging of doors and sounds from the street were used as instruments. And the duetts (which share the same minimalist sensibilities as The XX) have the two members trading harmonies: Jonathan sings the high and JJ the low ones – a simple yet effective way to play with the classic boy-girl-crooner tradition.