Gonjasufi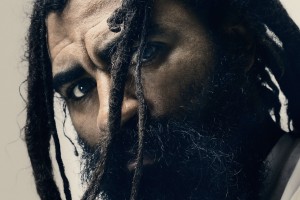 Gonjasufi invaded ears and stirred curiosity after putting vocals on a beat that became 'Testament' on producer Flying Lotus' 2008 album, 'Los Angeles'. Two years later, his debut album, 'A Sufi and a Killer', hit the streets to critical acclaim. What we are talking about is a hip-hop visionary, an artist that delves deep into self and beyond to lay everything on the plate for you to absorb – even if some of the words are barely decipherable, as if they have been momentarily buried by the same beat archaeologist that discovered them. The voice has range, from a razor-edge coarse delivery to that of a whispering soul on a cosmic voyage.
Turkish '70's drum breaks, the blues, sanctuary, samples from Raag's, bombastic beats, smoke-filled time signatures, psychedelica, analogue, digital, rough, devilry, discipline, justice, meditation, union, hardships, responsibilities, vows to one's oneself, Hendrix-inspired dreams, all make their mark and deliver articles of substance that are honest and sincere. This is an indication of what hip-hop heads can achieve when they begin to see beyond their own belly button. Contradictions are abound, but that is how life is, isn't it? Admitting them is a start.
Gonjasufi released the mini album "MU.ZZ.LE" in January, a recording brief in format but rich with messages, political, social as well as spiritual. The songs were written while traveling and reflect the frustration and anger that he sometimes would experience in the world. The album was recorded in Gonjasufi's home in the Mojave desert. The music is slower here and morose yet magical. It's one man's journey on his own through the darkness.
Recommended listening:
'MU.ZZ.LE' CD (Warp 2012
)
'When I'm In Awe': Gaslamp Killer feat. Gonjasufi (Brainfeeder 2011)
'A Sufi and A Killer' CD (Warp 2010)
'Testament': Flying Lotus featuring Gonjasufi (Warp 2008)