Lorena Álvarez y su Banda Municipal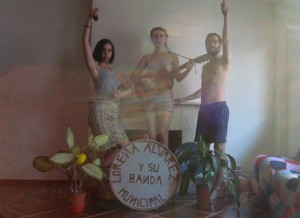 Sexy and traditional: two words that are rarely seen next to one another (except possibly in corset advertisements). Nevertheless this is the slogan of Spanish combo Lorena Álvarez y su Banda Municipal – crooked letters spell out the phrase on the band's bass drum: Tradicional Sexy. But the sexiness is not to be misinterpreted, what we're talking about here is a charmingly nerdy trio wearing cardigans and eyeglasses. Jaime Sevilla Moreno handles the above mentioned drum and performs some rather emotional yet not always perfectly intonated backing vocals. Laura Martinez plays castanets and helps out on backing vocals, and then there's Lorena Álvarez Barrero, lead vocals and tiny Spanish guitar.
One Spanish music writer refered to the group as "our own Moldy Peaches". Lorena originally comes from Asturia in northern Spain, and she describes her songwriting as a way to reclaim the culture of that region without being archaic or obsolete. The short songs of Lorena Álvarez y su Banda Municipal tell stories of romance and friendship, of comical situations and of animals. The music mixes traditional genres such as jotas, pasodobles and sephardic songs. The trio recorded a collection of songs and released a cassette which they named "La Cinta" – The Cassette, in Spanish – which was eventually digitized och distributed widely on the Internet.
Lorena Álvarez y su Banda Municipal are not the kind of live band who will stand in the spotlight and pretend to be popstars – there's no such thing as distance between performer and audience, and nobody's afriad of showing a smile or making a fool of themselves. In short, a wonderfully unpretentious example of how traditional music can be both relevant, fun and – well, okay then – sexy in a goofy kind of way.