Malaikat dan Singa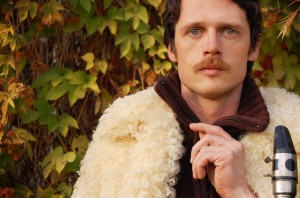 Botnik Studios | 21 July 2012 | Tickets
Ever since Elvis shocked the world by swiveling his hips, countless attempts have been made by musicians combining rhythmic sound warfare with stage antics both fascinating and frightening. All have been aware of the fact that rock'n'roll has the power to unleash violent forces if it manages to switch on the mysterious, dark side of man. That kind of rowdy you wouldn't invite to your cocktail party. The connection between monotony and ecstasy is difficult to really grasp, men it is clear that the musician much like a sort of magician has to learn new tricks continually if the show is to have the desired effect.
Arrington de Dionyso is a veteran in this medium: He played with Old Time Relijun for fifteen years, and now continues his explorations with the relatively new project Malaikat dan Singa. The name means Angels and Lions in Indonesian, which is the language that Arrington screams and hisses in, his voice sometimes shifting to a deep, murky throat singing style, sometimes his words are filtered through an infernally sounding tape echo. To witness Malaikat dan Singa's performance leaves no audience unmoved: the show is a shaman ritual performed over a hypnotic wave of noise.
Suddenly Arrington will take out a jew's harp and play a frantic solo without the backing of his band. But most of the time there's the backing band, comprised of diferent musicians depending on which part of the world he is performing in. The Swedish version of Malaikat dan Singa includes drummer Rickard Olsson (Exhadley) and bass guitarist Åke Strömer (Love is All / James Ausfahrt). Each song is based a single riff and drumbeat that are repeated ad infinitum with the tiniest variations. Arrington uses this kraut rocking backdrop as a drone under his strange vocals, his bariton clarinet screams and his almost comically choppy guitar licks.