Pursuit Grooves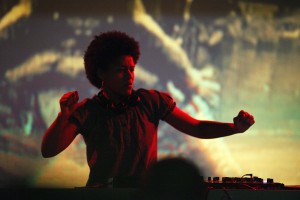 Botnik Studios | 21 July 2012 | Tickets
Pursuit Grooves (Vanese Smith) traces and skips behind the beat but, as often, she also skips ahead of it. Enigmatic harmonies and hyperreal vocal interventions. Limping hypnotic arrangements, abstract wonky beats. Frenetically hopeful, warm and soulful but always with a distinct skewness.
As a multi artist Pursuit Grooves possesses the capability of mastering the whole spectrum as a music producer, vocalist/MC and beatmaker with more than 15 years of experience. As if that was not enough she is also active as a video artist under her alias Wifihifiscifi.
Pursuit Grooves' mission and craft has never revolved around categories of sense making but her music is usually placed towards elektronic soul/funky hip hop regions. Most accurately Pursuit Grooves' music is probably described by the wordsmith herself. Just taste the labels she invented for her soundcloud webpage: EssentialLifeBeats, Broke Bass Boogie Beat, Silky Nighttime Bass, minimalhousebassbeats, bassbeatbumpness, basshopish, latenightlove, bass passion, ElectronicSoulHouse, Funky Dub Orbits….
With gigantic creative resources, Pursuit Grooves shows the way, lately at heavyweight label Tectonic, with her highly praised albums "Fox Trot Mannerisms" and "Frantically Hopeful." Her music raises questions to their point while not necessarily banging our heads with answers. Pursuit Groove's productions, live-sets and DJ:sets are delivered with innovative energy that never violate your ears, and still one can sometimes discern almost unhearable layers of dirty crackles and squeaks. Pursuit Grooves' mission is precisely to hunt and capture our ears. But even though she captivates us she is more interested in peace talks than warfare: her revolutions pursue solutions and use peaceful means.
With disarming precision, Pursuit Grooves' urban poetry pinpoints critical issues around conformity ("Clueless"), the oppression of expectations ("Pressure") and the hollowness caused by current technological dependency ("I Sink"). The hypnotically intimate "Whisper" leaves us with a question that directs the spotlight towards the beholder… But it is so genial with Pursuit Grooves that she does not need to deliver composite verbal messages to make her point. She masters enough means regardlessly to sharpen our world, to make it a bit sweeter and more hopeful in all its skewness.