Sierra Leone's Refugee All Stars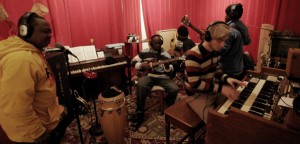 Botnik Studios | 21 July 2012 | Tickets
Throughout the 1990s, the West African country of Sierra Leone was wracked with a bloody, horrifying war that forced millions to flee their homes. The musicians that would eventually form Sierra Leone's Refugee All Stars are all originally from Freetown, and they were forced to leave the capital city at various times after violent rebel attacks. Most of those that left the country made their way into neighboring Guinea, some ending up in refugee camps and others struggling to fend for themselves in the capital city of Conakry.
Ruben Koroma and his wife Grace had left Sierra Leone in 1997 and found themselves in the Kalia refugee camp near the border with Sierra Leone. When it became clear they would not be heading back to their homeland anytime soon, they joined up with guitarist Francis John Langba (aka Franco), and bassist Idrissa Bangura (aka Mallam), other musicians in the camp whom they had known before the war, to entertain their fellow refugees. After a Canadian relief agency donated two beat up electric guitars, a single microphone and a meager sound system, Sierra Leone's Refugee All Stars were born.
American filmmakers Zach Niles and Banker White encountered the band in the Sembakounya Camp, and were so inspired by their story they ended up following them for three years as they moved from camp to camp, bringing much needed joy to fellow refugees with their heartfelt performances. Eventually, the war in Sierra Leone came to an end, and over time the All Stars returned to Freetown, where they met other returning musicians who joined the band's rotating membership. It was there in the tin-roofed shacks of Freetown's ghettos that Sierra Leone's Refugee All Stars recorded the tracks that ended up, along with unplugged recordings made in the refugee camps, being the basis for their debut album, Living Like a Refugee, which was released on the label Anti in 2006.
The resulting film that documented this moving saga, Sierra Leone's Refugee All Stars, was a critical success, and introduced the world to the personalities and dramatic stories behind the band, not to mention their instantly appealing music. "As harrowing as these personal tales may be," wrote The New York Times, "the music buoying them is uplifting." Newsweek raved, "It's as easy to fall in love with these guys as it was with the Buena Vista Social Club."
The movie, album and eventual U.S. tours helped expand their following, and soon the band found itself playing in front of enraptured audiences of tens of thousands at New York's Central Park SummerStage, Japan's Fuji Rock Festival and the revered Bonnaroo Music & Arts Festival. They appeared on the Oprah Winfrey Show, contributed a song to the Blood Diamond film soundtrack, participated in the U2 tribute album In the Name of Love: Africa Celebrates U2, and earned praise and backing from Sir Paul McCartney, Keith Richards, Ice Cube, Angelina Jolie and others inspired by their life-affirming story and captivating music. In one of the most surreal moments of their climb to fame, Sierra Leone's Refugee All Stars opened for Aerosmith at the 12,000-capacity Mohegan Sun Arena in Uncasville, Connecticut.