Staff Benda Bilili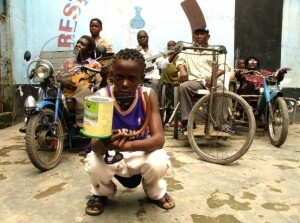 Kinshasa, one of the hardest and most poverty-stricken places in the world. But this sprawling megacity also brought forth some of the most exciting musical phenomena of our time: beautful, broken sounds; often from electrified thumb pianos by groups like Konono No1. The music of Kinshasa truly is a music of the street, performed by destitute musicians using home built instruments. It is a fusion of styles which in its eclectic lack of respect could be described as the newest thing around, while at the same time these intricate blends of melodies and rhythms seem to be directly connected to a sort of original, universal music. Basically, anyone can tell that these tunes are ridiculously catchy.
Staff Benda Bilili's journey from the very bottom of existance to international acclaim has been documented in the film "Benda Bilili". The band consists of four disabled, middle aged musicians who rehearse in at the Kinshasa Zoo. They get around using customized bicycle-wheelchairs, and they sleep on slabs of cardboard under the stars. It's hard to imagine the many trials these musicians at the bottom of the world's most impoverished country have to deal with – and at the same time fascinating how they seem never to lose their faith in that music will eventually make a better life possible. The name Staff Benda Bilili is a phrase in Lingala which means "don't judge a book by its cover".
The debut album "Très Très Fort" mixes rowdy rumba, traditional Congolese music and the funk of James Brown. After its release the group toured intesively and successful touring in Europe, and the group recieved the Womax Award of 2009. They played Clandestino Festival 2010. Daily newspaper Svenska Dagbladet wrote then that "this is probably the most beautiful ghetto rumba, and the nastiest low fi soukous you will ever hear".