Stranger Islands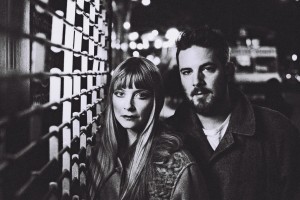 Botnik Studios | 21 July 2012 | Tickets
Stranger Islands was formed in New York City in 2011 soon after Joanie Wolkoff (vocals) och Matthew D. Davis (instruments) first met by chance in a tropical fish shop. They soon realized that they didn't just share an interest for zoology, but also a passion for strong pop songs and old dance pop videos on VHS.
– Generally we try to approach motifs which 'haunt' us in the music we listen to and share; I cannot tell you how many hundreds of Youtube links we've sent eachother over the past year in the spirit of, "What makes this song so engrossing/danceable/seamless/fun/powerful?", says Joanie.
– All sorts of music inspires what we write, even if the album itself ended up taking on a more 80's texture. We also scrutinize obscure VHS movies any of us chances upon because so many sountracks to catastrophic B-movies have marked us… forever.
Duon turned trio when drummer Ezra Oklan joined Stranger Islands, and the band now started creating a sound that would be both familiar and new at once. While less than thrilled by the blandness of contemporary mainstream music, Joanie Wolkoff is the first to admit that the very same chewing gum pop hits and nonsensical lyrics somehow has a place in her heart.
– On the one hand, we find ourselves bemoaning the 'wooden-ness' of some of today's 'great hits.' On the other hand, we go around singing them under our breath in lineups at the pharmacy or post office and even making up newer, stupider lyrics for them. This is done with a kind of great love. So humor and cultural awareness play a large roll in our approach to music, and this has a great deal to do with our cumulative sxperiences as entertainers and observant people.
Nostalgic, melodic and irresistably smile-provoking: A collection of songs took shape and Stranger Islands were given the chance to try out their repertoir on their home when they were offered a month long residency at Piano's, a club in downtown Manhattan during the spring. A great warm up for what we expect will be a busy year for Stranger Islands.