Tinariwen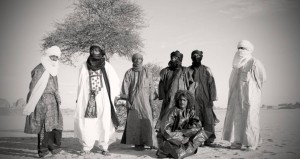 Botnik Studios | 21 July 2012 | Tickets
Tinariwen's biography is as unlikely as it is fascinating. Today the world's most famous representatives of a genre known as Desert Blues, the group has fans in celebrities like Radiohead and U2, and their performance during the 2010 FIFA world cup was seen broadcast to people all around the globe.
But the road to success has been a long and crooked one. Tinariwen was formed in 1979 by a group of Tuareg Berbers in a Libyan refugee camp in the Sahara dessert. They started playing a tranquil and melancholy yet hypnotic and danceable music.
The sound of Tinariwen is centered around the electric guitar which plays melodies and riffs based on pentatonic scales, sometimes sounding quite closely related to Delta blues. However, members of the band claim not to have heard American blues music in at that time early in their career when the Tinariwen style developed. There are theories based on the idea that the two traditions both are distant descendants of a music played in the lands around the river Niger hundreds of years ago.
People started calling them "Kel Tinariwen" – the boys from the dessert. After some time they started writing their own material with lyrics about their own lives – as opposed to the traditional songs they had played initially, with lyrics mostly telling the stories of a mythological past. One of the experiences that formed band leader Ibrahim Ag Alhabib's songwriting was when as a child he witnessed his father's execution during a rebellion in Mali.
In 1980 Tinariwen enrolled a training program to become soldiers in Muammar Gaddafi's army, as a way to gain legitimate residence in the country. During the training they met other musicians and soon the group grew into a collective and built a rudimentary studio. Their music was starting to spread around the Sahara.
In 1989 Tinariwen moved to Mali and became full time musicians. Since then the group has played more than 700 shows in Europe, the USA, Japan and Australia. Their 2011 album recieved a Grammy for "Best World Music Album".