Tonbruket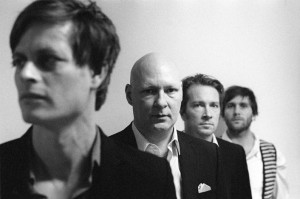 Some sort of musical interaction between bass and piano brings to mind Swedish jazz classic Jan Johansson's album "Jazz på svenska". It is that same sparse melancholy, with no unnecessary schmalz or decorations. The sharp steel sound of the guitar adds a whole new dimension. And while the drums reaffirm this harder texture, a steel-guitar slides in out of left field, challenging our prejudice ideas of that instrument's correct context and possibilities. Tonbruket sometimes sounds like Pink Floyd in jazz mode, sometimes like a blues jam infected with cuban rhytms. And now and then the quartet sounds like a sort of elevator music one wants to turn up to eleven.
And Tonbruket persists in its mission to confuse the listener as far as genres go. Their second album "Dig it to the end" inludes influenses of surf rock, americana, Ravel's Bolero, Eno-esque sound stratospheres, seventees hard rock, mambo, easy listening, progg rock, music box minimalism and grand sound painting.
So who are the four men that make up Tonbruket?
Dan Berglund – bass
Started out a hard rock bassist. Studied double bass at the Royal College of Music, Stockholm. Session musician in high demand. Created a deep, Mingus-like bass sound but stayed true to his roots in heavy and progressive rock. Met Esbjörn Svensson and Magnus Öström, founded the succefull and internationally acclaimed jazz trio EST. After Esbjörn Svensson's untimely death in 2008, it was emotionally difficult for Berglund to play music until finally when he founded Tonbruket and things fell into place.
Martin Hederos – piano
Member of rock combo Nymphet Noodlers in the nineteest, then The Soundtrack of our lives. Recorded much acclaimed duets with Mattias Hellbergand Nina Ramsby. Coilaborations with Ane Brun, Nicolai Dunger, Weeping Willows and others.
Johan Lindström – guitar
Multi-instrumentalist and producer. Innovativ steel-guitarist Colaborations with Kristofer Aström, Elvis Costello, Anna Ternheim and Per Texas Johansson, in whose band he met Tonbruket's Dan Berglund.
Andreas Werliin – trummor
One half of the duo Wildbirds & Peacedrums. Has colaborated with Fire!, Lonely Dear and ASS. A versatile and dynamic drummer and percussionist who mixes playful rimshots and detail with a John Bonhamish heavyness and strength.