Wildbirds & Peacedrums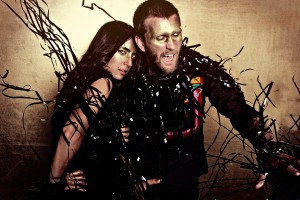 Botnik Studios | 21 juli 2012 | Biljetter
"How can less be more? More is more!" said an agitated Yngwie Malmsteen in a recent heavy metal documentary on Swedish public tv. This might be true to guitar virtuoso Malmsteen, but it definitely does not apply to this minimalist and simultaniously expansive duo: Taking into consideration Wildbirds & Peacedrums' rather sparse toolbox – mostly consisting only of Andreas Werliin's drums and Mariam Wallentin's voice – it is impressive what a range of aural worlds they managed to construct.
The project started at the College of Music in Gothenburg, Sweden, in 2006 and Mariam's interest for the possiblities and limitations of the human voice have been there all along: A curious sort of laborating in the grey zone between what is normally known as speech on one hand and musical expression on the other. Andreas drumming experiments with the physical perception of music, his drums play with our sense of balance and proportion: sometimes in the form of refined rolling grooves, and other times beats that move like a Hulk throgh the melodic structures. All in all the music of Wildbirds & Peacedrums uses empty space as much as it utilizes sound.
After releasing their debut album "Heartcore", the duo was given the award for best Swedish Jazz by the organization Rikskonserter, which enabled them to release their sophomore record, "The Snake" on Caprice Records. In 2010 the duon traveled to Iceland to record "Rivers" with arranger Hildur Guðnadóttir and chamber choir Schola Cantorum Reykjavík. Around the same time the Wildbirds & Peacedrums performed at the Swedish Polar Prize ceremony: backed up by a big orchestra they played a version of Björk's "Human Behaviour".
Another much acclaimed collaboration the group participated in was with members of Deerhoof, Skeletons, Kasai Allstars and Clandestino favorites Konono No 1, in a super tour named Congotronics vs Rockers, featuring around twenty musicians on stage simultaniously.
Wildbirds and Peacedrums are currently working on a new album which will be released next year. The show at Bottna will be their only performance in Sweden in 2012.