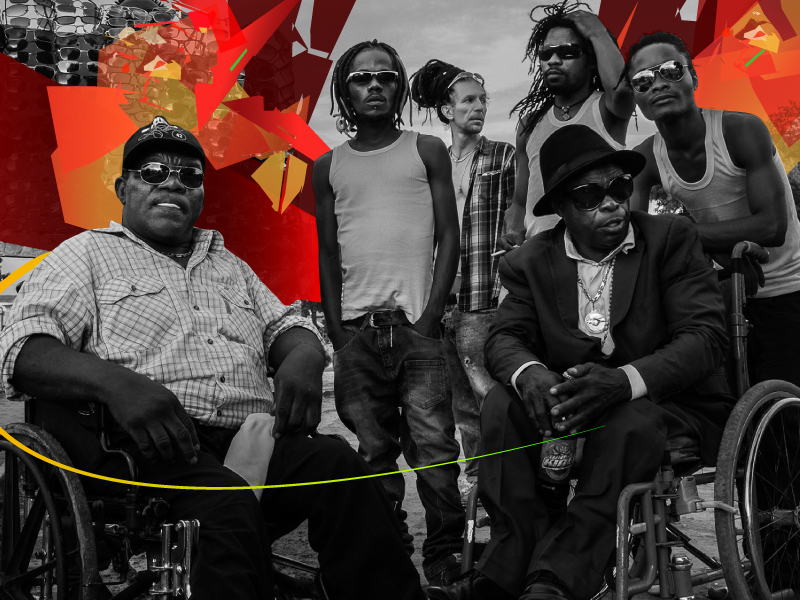 Mbongwana Star is a newly formed 7‐piece band from the Democratic Republic of Congo. Fifteen years ago Coco Ngambali and Theo Nzonza first formed a band, inspired by their love of Congolese rumba and its pantheon – Franco, Tabu Ley Rochereau and Pépé Kallé. That band, Staff Benda Bilili, made it big time: two major albums, a world tour and starring roles in the acclaimed film 'Benda Bilili'. Inevitably, the big time hit right back. The band collapsed under the weight of its own success. But in the shanty-villages of Kinshasa, Africa's third largest city, bands are recycled along with everything else.
Coco and Theo gathered up the necessary pars of a band from the younger generation, crammed them together and started belting out a shambles under the name Mbongwana Star; Mbongwana meaning change. Together with Liam Farrell, aka Doktor L, a maverick musician and producer from the Parisian hip-hop and electro scenes who produced Tony Allen's "Black Voices, they found their punk influences.
The music that Coco and Theo played to Doctor L was vigorous -­ a heedless mass assault of percussion, guitars and voices on the edge of tearing itself apart with its own momentum.
Some form of collaboration seemed inevitable. The result became a fusion ("too smooth and seamless a word for this angular hodgepodge", according to The Guardian) of traditional Congolese rhythms with a big fistful of European post-punk bass and busted electronics. "Afrobeat with a solid steel casing", says Fact Magazine.
So this isn't what you would expect from a Congolese band or even an African sound. Like the weird Congo Astronaut that haunts the first video 'Malukayi (feat. Konono No.1)', Mbongwana
Star is a naturally occurring, smashed-together combination of things that's both unexpected and somehow inevitable.