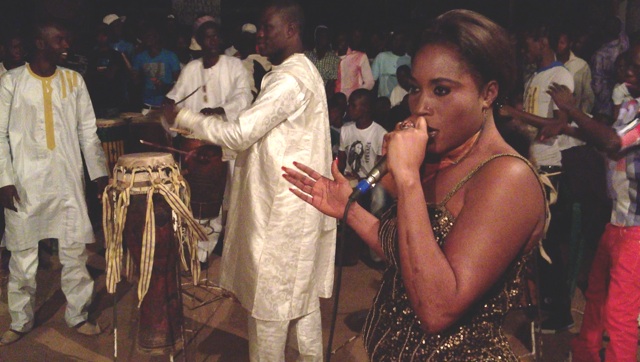 Clandestino Festival summer edition 8 June Stora Teatern
A German techno purist meets a gang of Senegal's tightest drummers. Could the result possibly be anything but a rhythmic weapon of mass distraction?
Mark Ernestus, known from various projects including the seriously minimal dub and techno duo / record label Basic Channel, has been busy recently remixing afrobeat artist Tony Allen and Congolese group Konono No 1. He was also involved in the production of a compilation of songs by Shangaan Electro (who played at Clandestino last summer). In 2011, Ernestus embarced on a trip to Senegal, looking for recordings of local pop music that he intended to sample for his own projects. But his plans changed, after he instantly fell in love with the music style Mbalax.
Mbalax music was developed in the late seventees by artists like The Star Band, whose singer Youssou N'Dour would later become one of the biggest stars of the continent. It is an urban dance music built up by extremely tight, clattering beats performed on sabar and bugarabu drums, feeding a constant stream of polyrhythmic thirtysecond notes and triplets. Mbalax also consists of equal parts western rock, blues, jazz and french varieté music, caribbean dance music and synth marimba-riffs in a feverish tempo.
Techno guru Ernestus' trip resulted in much more than just shopping obscure records: He ended up recording some twenty of Senegal's best musicians in the famous Dakar Studio: A group sabar drummers from Kaolack led by Bakane Seck, the singer Mbene Diatta Seck, several guest musicians and vocalists some of which are from Youssou N'Dour's group. The sum of the cardemom is a heavy and dirty, ancient and futuristic Mbalax, stripped down, and sometimes deconstructed to a sort of dub-versions. The collaboration is available on disc through Honest Jon's, but a musical fusion as explosive as this one should really be experienced live with a big band, dancers and Ernestus performing live dub mixing.