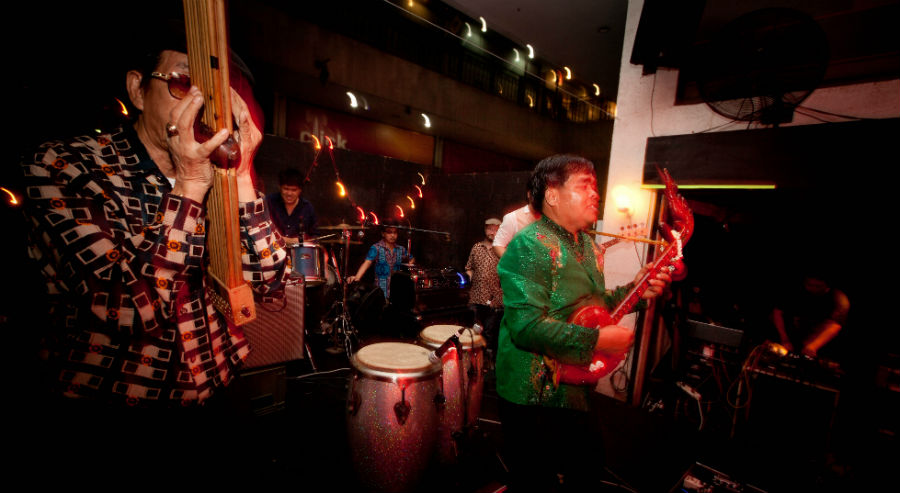 The sixties and seventies were times of borderless experimentation on the Thai music scene. With the Vietnam War around the corner, American rock and jazz was roaring on the radio, music that was quickly mixed with various provincial styles like luk thung and molam. The result was something new at the same time as it was sufficiently grounded in local traditions to serve as a strange twisted nostalgia music. Electrified village sounds for the huge number of domestic migrants who traveled on on pick up trucks from the country to Bangkok in search of work. Around this time the record label Sound of Siam started their business in a humid den in the capital's Chinatown district. It came to release a steady stream of pop songs which provided the new city dwellers with a musical way back to what they left behind: The villages, the slow life, festivals, dance. The music grew as a frankensteinesque grapevine from portable record players and jukeboxes: rhythms and riffs often lifted directly from Western rock and roll, suddenly the Rolling Stones' Jumping Jack Flash riff imported wholesale while saxophones play intricate melodies reminiscent of the "Ethiopiques" compilation.
In 2010, UK company Soundway released an acclaimed compilation that provides a good introduction to the movement, it was called "The Sound of Siam" just like the record label. Three years earlier, Paradise Bangkok started, a music club in the capital organized by Maft Sai and Chris Menist – both DJs completely obsessed with old scratchy vinyls. Soon, the club grew and began to organize concerts with the old artists. As a result of this continued success, Paradise Bangkok started a record label for re-editions and soon thereafter started supergroup "The Paradise Bangkok Molam International Band".
It's a unique band, brought together to recreate the old molam-music with modern vibes. With Kammao Perdtanon on phin, Sawai Kaewsombut on Khaen, Piyanart Jotikasthira on bass, Chris Menist on percussion, and Phusana Treeburut on drums. The result is unlike anything you've heard, and at the same time an introduction to a long-overlooked albeit unlikely creative musical scene.