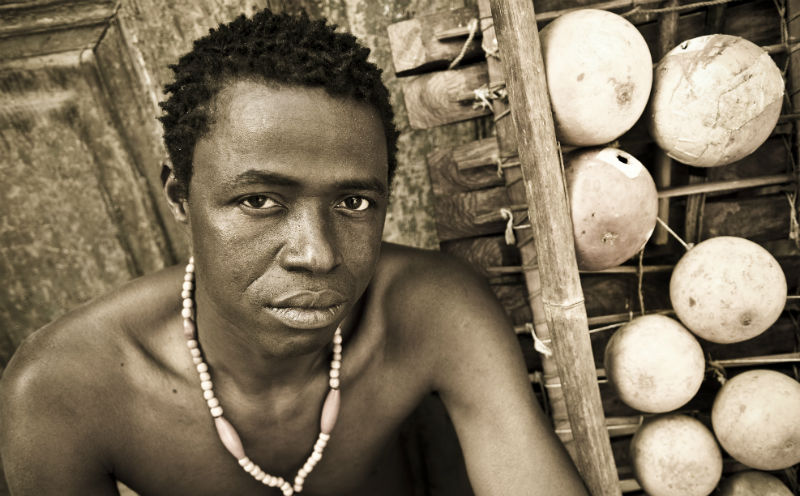 Clandestino Botnik 28 July Bottna
Griot is the name of a music tradition in West Africa that extends several hundreds, even thousands of years back in time. A griot is a kind of troubadour with the mission to entertain and at the same time a storyteller and oral historian. In his songs he reports on current events and on his people's history and legends, stories which are often handed down orally and which are essential for maintaining the social fabric which forms the community – especially at a time when traditions and family ties are being torn up as a result of urbanization and globalization.
Kimi Djabaté was born in Guinea-Bissau, where he grew up in a family of griot musicians. His was a home of economic poverty, yet with musical abundance. Both his parents, two brothers and a sister, were already professional musicians when Kimi took his first notes on the balafón (West African xylophone) at age three. The early start and stimulating environment were elementary for what would soon prove to be a rare talent and singular musical sensibility. He studied various percussion instruments and the string instrument kora, which would turn out to be a gateway to his very special guitar technique he developed as a teenager. Kimi Djabaté quickly became a sensation in the region, while his interest began to extend beyond the traditional sounds of Griot heritage: He now incorporated various popular genres such as gumbe, afrobeat and morna mixed with western jazz and blues. More or less deliberately, Kimi Diabaté was exploring a myriad of styles, in search of a new sound that would carry on the proud griot tradition in a time of geographic and cultural diaspora.
1994 Djabaté toured Europe with a music and dance ensemble from Guinea-Bissau, and afterwards he decided to try to stay and settle in Lisbon. Moving to Europe proved difficult and according to Djabaté himself, this was the most difficult time in his life so far.
After more than fifteen years in Portugal Kimi Djabaté still focuses on the music he grew up with in Guinea-Bissau, constantly challengeing it and renewing it with new influences from the world and the musicians who surround him. Djabaté has participated in many successful collaborations during his years in Europe, including Mory Kanté, Waldemar Bastos and Neto de Gumbe. He has just released his second solo album 'Karam', a contemporary (however totally acoustic), global griot record that tells of Africa today: Of social and political conflicts, the fight against poverty, the fight for freedom and for the rights of women.