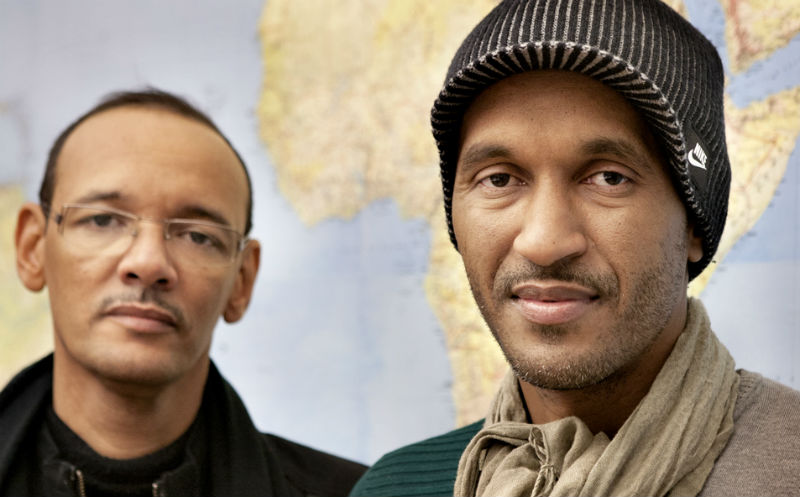 FESTIVAL AU DESERT IN EXILE on November 7
Musikens Hus, Djurgårdsg. 13, Gothenburg. Opens 18:30. | Full program | Tickets available at the door
Almou Ansar is one of the founders of the desert festival. In the Gothenburg edition of the Festival au Desert in exile he will interviewed on stage by Lars Lovén, freelance journalist and music critic specialized on contemporary African music.
Le Festival au Desert has its origins in an annual celebration (Takoubelt) for the nomadic Tuareg people, who used to take gather just in the areas around Timbuktu on the outskirts of the Sahara desert, to celebrate and play music. A music that is not only a social glue for a scattered desert people, but also said to be the origin of the American blues – and thus also jazz and all sorts of other African-American musical genres. Yet, it was more of a Homecoming party than a musical event of global significance until Manny Ansar and his cousin Almou Ansar decided to start a regular music festival out among the dunes in 2001. Le Festival au Desert has since grown and become something of a renaissance of Tuareg culture: Tinariwen, Ali Farka Touré and Bassekou Kouyate are all world famous artists associated with the festival and proof of Mali's impressive musical tradition. The music has reached far beyond the country's borders and attracted superstars like Bono and Damon Albarn to the Festival au Desert .
As a consequence of the conflict in northern Mali in 2012, it was decided not to arrange the next festival. Islamists in the region aimed to prohibit all musical expression and the festival was directly threatened by violent groups. The organizers decided to arrange a " Caravan for Peace" with Malian musicians during the summer of 2013 touring the U.S. and Canada, and here in the Scandinavia we at Clandestino Festival have the opportunity to arrange Festival au Désert in exile in collaboration with a number of organizations. We would like to note that the freedom to express oneself musically, artistically or at all, is not something we can or should take for granted. In Mali, longstanding musical traditions are at the risk of disappearing if they are no longer allowed to be performed.
In February 2013, Festival au Désert was awarded the festival Freemuse award. Freemuse is an organization working for freedom of expression in music and supports the musicians and composers who are threatened by censorship. It was the first time a festival received the award .
The Gothenburg edition of Festival au Désert in exile is presented by Clandestino Festival in collaboration with the Association More Jazz in Sweden and the Swedish Postcode Lottery . Information about the Stockholm edition here .