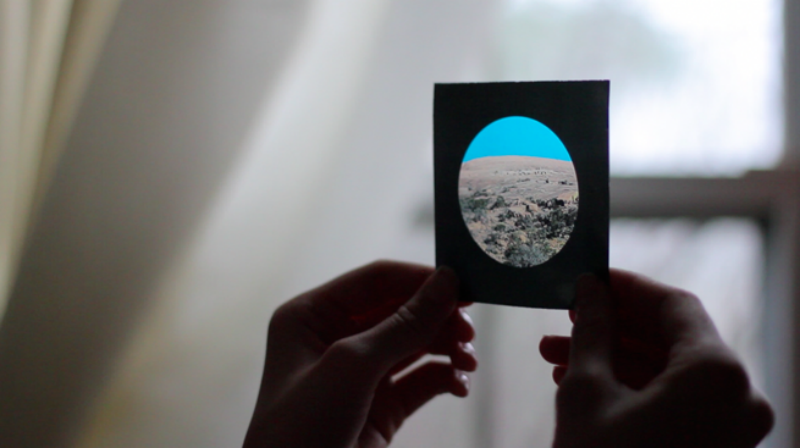 CLANDESTINO BOTNIK, BOTTNA | 25-27 JULY
With the history of vision and representation as a point of departure, Lena Bergendahl's exhibition The Fire Within the Eye consists of a three -channel video piece and a sound installation in the form of a recorded text. The video takes place in the landscape surrounding the large granite formation The Enchanted Rock in Texas; a mythical place that amongs other things has been described as a portal to other worlds. In the work Bergendahl utilises a mix of contemporary and older 17th century analog projection methods, to examine issues related to perception and representation, optical illusions, virtual images and the relationship between science and magic. The French physicist Pierre Le Lorrain de Vallemont describes in La Physique Occulte (1696) how one can look out at a beautiful garden through a camera obscura: "One sees the birds flying around and passing by, people coming and going, the flowers in all their splendid colour, and all this rendered with such a degree of exactitude." Nature can be copied with its own aid.
Lena Bergendahl works with video, photography and light installations, often with modified scientific methods as a starting point. She stages and transforms processes and illusions that are often visualised in multi- channel video and light installations. Bergendahl has an MFA from the Royal Institute of Art in Stockholm (2010) and has in recent years shown her own and collaborative work at Eyebeam Art + Technology Center in New York , USA, Minibar Artist Space in Stockholm , Los Angeles Film Forum in Hollywood, USA and at the Hong – Gah Museum in Taipei , Taiwan.
ABOUT GALLERI BOX:
BOX is an artist driven gallery with a focus on contemporary art. At Clandestino Botnik BOX will present a program of video art, site-specific installations and a lecture. More info here.