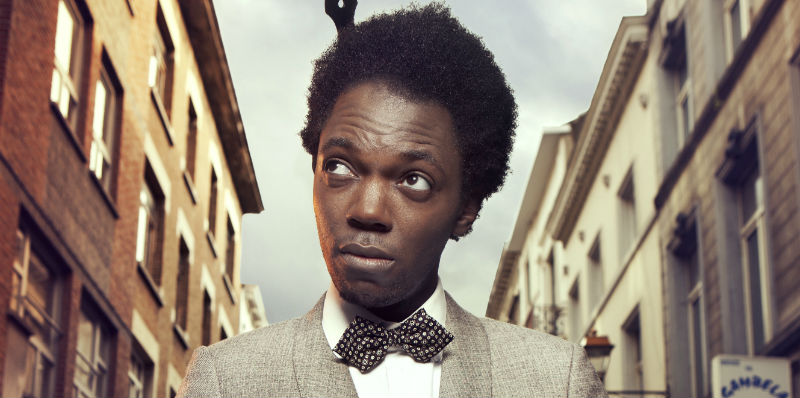 Clandestino Botnik 27 July Bottna
"I'm Goin' Home…nakuenda". This is how Baloji ended his album 'Hotel Impala'. To this Congolese Belgian who was born in Lubumbashi in 1978 and grew up in Wallonia in crisis, though, these final words marked a new beginning. "Over there, I don't feel totally Congolese and here, I don't particularly feel Belgian." This is what this album was about. About the quest for the identity of a man in his early thirties. From spiritual soul to mouth drum, his texts reflect all episodes of his life. "The album is my response to a question from my biological mother during our only telephone conversation in April 2005 'What have you been up to over the past 25 years?'"
"I'm Goin' Home". This is how "Nakuenda" begins, which means "return" in Swahili. The track is an adaptation of a theme by Marvin Gaye, who, like Baloji, came to Ostend in 1981, the port where the boy disembarked in the same year. But Gaye was, above all, his father's hero, who returned to his country. "I can see myself living there, in due course. In any event, I have to go back. I have no choice." This is how the long-limbed artist spoke about his native country in December 2007. He also admitted that he became increasingly interested in African sounds, from Dollar Brand to balafon, "an instrument that has the potential of blending in on set."
In late October 2008, not even a year later, Baloji put his money where his mouth was and saw his wish come true. "A Belgian institution approached me with the request to organise a creative writing workshop, with a concert to finish it off. But I preferred to make a record first. This is how in April, I came over for a week to explore this area. Seven months later, we left, armed with our computers, sound cards, a few microphones and a lunch box …" Along with two accomplices in the luggage: sound engineer Cyril Harrison and base player Didier Likeng, who have created arrangements in the great Cameroon choir tradition. The mission was to make an album that sounded like an in-situ version of 'Hotel Impala' "All the groundwork had been done, nothing was down on paper, everything was improvised!"
For a week, the musicians of the Congolese melting pot will give their all: a trio of balafons, voices of all different vocal colours, narrators, toaster or soul sister, the entire group Zaïko Langa-Langa, as well as Konono Nr. 1 and his likembés, the vocal ensemble "La Grâce", with a name that is just as predestined as that of La Confiance fanfare … Most musicians blow into bagpipe-type instruments that they knocked up, or patched up, themselves or that have seen better days. "This is precisely what adds this unique patina to the sounds. No two bars are exactly the same, no need for metronomes. Effects are superfluous, everything is done acoustically. Even the distortions of the guitars are natural. Even when the guitars are not tuned, they play accurately." Instinctively, in the moment, concisely. The spectacle kicks off with the orchestra La Katuba, a combo named after the immense ghetto in Lubumbashi where Baloji's mother lives. In fact, this afro-soul-jazz group that has been formed on the spot acts as a linchpin around which the others wrap their rhythmic bases and melodic lines in all kinds of possible ways.
A "back to the roots" experience which, to Baloji, is more like "back to the future". Hotel Impala has been repainted in local colours, elegant rhythms and expressive guitars, inherited from Dr Nico and Franco, two Congolese music legends whom Baloji admires greatly. "I have always dreamt of guitars in urban music." Eventually, he completely reconstructed the repertoire and adapted the lyrics and music accordingly. Baloji built a very heterogeneous universe, his universe. An original soundtrack that takes its inspiration from the fertile earth of his roots and is entitled "Kinshasa Succursale", with reference to his own environment. The world of a child who grew up in economic exile, of a pan-African who came out of the ashes of Lumumba, a sharp mind who only seeks to reconciliate and wake up old spirits.
This is probably why, when he sings in Swahili, the forbidden language under Mobutu, they respond to him in Lingala and Tshiluba. As a symbol for the many horizons that have been explored and the variety of registers that this new work offers: the traditional rumba, the retro-futuristic tradi-modern style, the swinging mutuashi, the more apt sébéné, the soukous, but also the fully acoustic folk music, the ska roots or the reggae lover, dowsed in a local dressing, the Nigerian afro funk … A diversity of styles with Baloji's unique vocal sounds that marries the whole thing up. The gaze is firmly fixed on the future, there is no looking back now. "This album had to be a response to 'Hotel Impala', but eventually ended up something completely different."
A story that is always the same, yet different.. This sums up "Kinshasa Succursale". The album is so much more than a simple adaptation, much better than a response effect. As he puts it in the symbolic 'Nazongi ndako / Nakuenda': "Sometimes I say to myself that it is better not to know, even if there are two sides to each story. My story is made up of loose fragments, broken like my timbre. A great distance separated us from the free zone, which separated the innocent from the victim, the right moment of opportunism, but prior to that I would never have been ready to meet my brothers after twenty-five years." This is how he draws a line under his recent past by means of these sensual sounds and spiritual words.