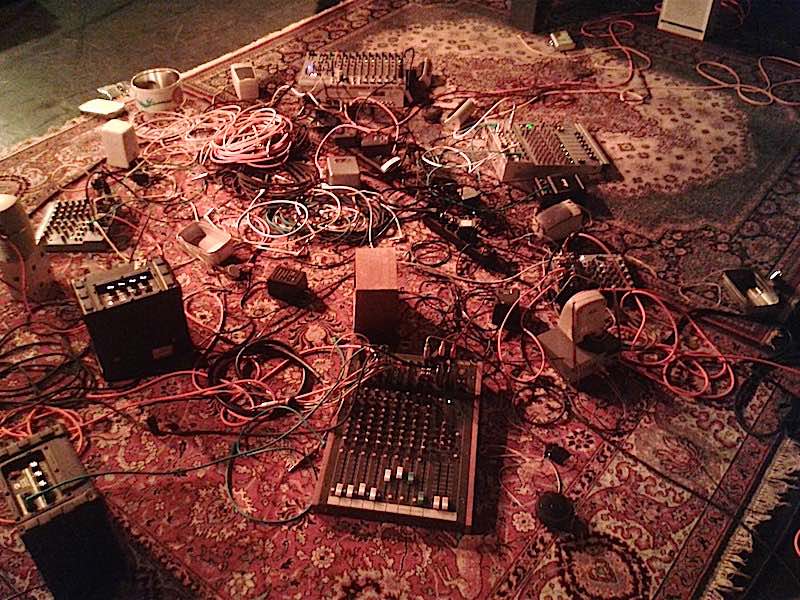 CLANDESTINO FESTIVAL | GÖTEBORG | 5-6 JUNE 2015
RICHARD WIDERBERG OCH BARRIE SUTCLIFFE: "ELECTROMAGNETIC ECOLOGY"  
Under the theme of "Dysturbance," Gothenburg-based artists Richard Widerberg and Barrie Sutcliffe will build an installation that disturbs the electromagnetic frequencies of Gothenburg's local radio stations. In "Electromagnetic Ecology," several radios will receive many different stations, all of which will then be subjected to distortion and change after being fed through an unstable network of electronic feedback. These disturbances will then be broadcast back into the airwaves and played back by yet more radios installed within the work room at Smedjan. Radio transmission is sensitive to bodies and material. The installation will thus be activated by the audience exploring the space, who with their movement can actively change the qualities of the transmission.
Like the alloys hammered and welded to shape in Simon Bodner's smithy, so does our installation bend and twist otherwise intangible radio waves into new forms. In this way, we can reinterpret what is normally one-sided communication, interrupting the typical way of interacting with broadcasting. "Electromagnetic Ecology" is a new installation, made especially for Clandestino festival.
Barrie James Sutcliffe is a Canadian-born artist making sound and light installations, live electronic music both solo and in ensembles, as well as participatory events with an experiential and educational focus. His focus is on physical, material experience—our senses—as being the source of active information that drives thought and our behaviour. The development and use of technology to control ourselves, our society, and our environment plays a crucial role in Barrie's work. www.youaredissolved.com
Richard Widerberg is a sound artist and musician based in Gothenburg, Sweden. He is in his work investigating listening and the experience of body, space and flow in relation to past and present. The structures and systems inside and outside of us which gives us freedom, control or chaos also play an important role in his work. Richard's work is presented as performances and installations where collaborations and participation play an important role. www.riwid.net
Richard and Barrie together with journalist Valter Nordqvist coordinate The Harmony Group, an open study and activity circle based at the Gothenburg art platform Skogen. The group meets regularly, exploring the idea of harmony and its relation to control.
www.skogen.pm/events/studiecirkel-the-harmony-group/
INTERVIEW WITH BARRIE JAMES SUTCLIFFE
1. Tell us about yourself and your relationship with the city/cities.
–  I have a close relationship to the cities I live in. I like to visit as many places in a city as possible, to get to know them and the kind of people who live there. I'm fascinated by architecture, transport systems, nature, and how cultural events sneak around in the city's infrastructure. Especially interesting is older cities that contain numerous structures interwoven into deep time, which shows how the past and future exist at once.
My preferred mode of transport is the bicycle, which is fast enough to be efficient but slow enough that I can use and memorize all the small lanes and paths that connect places together. To slowly walk around a city is also a pleasure, to wander like a flaneur. I try to get involved in the cultural life of the city but sometimes it's hard to be involved in the civic life.
I am also obsessed with maps and mapping, and have maintained over several years a map of places in Gothenburg that are interesting or useful.
2. Tell us about which other projects you are involved in, besides Clandestino Talks.
– One thing I am working on is a study circle called The Harmony Group, based at the local art platform Skogen. I run it together with Valter Nordqvist and Richard Widerberg in an effort to come to grips with a complicated subject, possibly leading to a larger artwork in the end. To put it simply we study the relationship of harmony to control and the tension between those concepts both in a societal context but also psychologically and bodily. The group will meet regularly this spring and into the fall.
A crucial part of our practice is to engage in activities as well as study and discussion. Activities can put ideas into practice. The group is open and we are happy to now count several members with different backgrounds. So far we have gotten lost in a wild forest near Kungälv, experienced sound and chaotic systems in an abandoned harbour worker's shower room at Götaverken in Gothenburg, and made a group performance at Göteborgs Konsthall.
Outside of that I am practicing and recording my own solo drone and noise sound works and conceptualizing new ones, including a new collaborative work involving radio and a mass grave.
3. What does the concept of Clandestino Talks, "Dysturbance", mean to you?
– "Dysturbance" brings to mind dystopia, dysfunction, urbanity, and of course disturbance. The urban space is a place of control and almost non-stop communication. The violent noise, physical movement, strict social norms, and mass surveillance definitely brings to mind the sense that we already live in a dystopia. Gothenburg is however very soft and easy to handle in comparison to unimaginably dense and colourful nightmares like London, which is both wonderful and terrifying in its speed and complexity. I am always in amazement about how cities manage to function at all given their multiplicities.
However, the human living in a city must also function at a high level, and must have immense control over their life in order to not get ground up and destroyed in the urban machine. The work of underground culture often seeks to disturb this network, but is more often than not forced to succumb to the forces that run the place: money, developers, consumerist expansion, gentrification, strict alcohol and noise laws, gangs, bored police, cutbacks to funding, etc. It is extremely difficult to speak up, to be heard, to reach anything more than a tiny fraction of the population, the majority of which are spoon fed by mass media. True disturbance may not be possible anymore in this context, and that is the real dystopia.