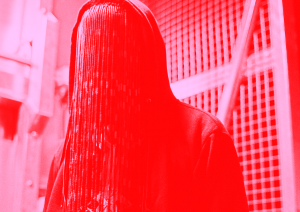 A producer and percussionist from Tunisia now living in Copenhagen, Nuri is one of the most promising upcoming musicians within African futurism, mixing deep bass and organic percussion with polyrhythmic grooves, sharing bills with names like Clap Clap and Dengue Dengue Dengue.
He recently released his debut album on Shouka, a label focusing on traditional music and contemporary electronics from North Africa and beyond. ''Drup'' is a tribute to his African heritage. A bridge to other traditions, it comes replete with percussion and vocals from all over the mother continent and Asia. Combining it all with digital processing, Nuri amalgamates then with now.
On stage, Nuri is a masked witch doctor conducting a deep ritual––a journey into the lost roots of his homeland. Heritage, tribalism, organic sounds, melodies, and loads of emotion.