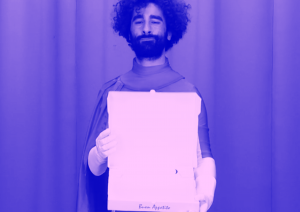 Çaykh is the DJ moniker of berlin-based and hamburg-born Nicolas Sheikholeslami who is also a member of the live & recording projects "Circuit Diagram" and "Spiritczualic Enhancement Center".
Eclectic are his musical interests and so are his DJ-sets & radio shows. Researches that than turned mixes covered regions like Turkey, Ethiopia, Indonesia, South Africa, Sudan and Somalia. The latter research resulted in a teaming up with New York's "Ostinato Records" to co-produce the compilation Sweet As Broken Dates – Lost Somali Tapes From The Horn Of Africa, which recieved a nomination for best historical album at "Grammy Awards" 2018.
Besides mixes and sets based on the region of it's origin Çaykh also likes to play sets of music that tend to rather concentrate on a certain red thread or attribute that he senses in the selected music, regardless of it being spiritual Jazz, modular synth freak outs, or so-called traditional music from any region of the world.
For later this year his first 3-track solo vinyl release is scheduled on Manchester's "Natural Sciences" label.