Why Should the Cultural Minister resign?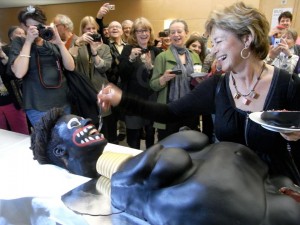 Why Should the Cultural Minister Resign?
In relation to the controversy surrounding Makode Linde's cake performance we will devote a few hours on Sunday to a direct and nuanced discussion whether and if so, why Lena Adelsohn Roth should resign from her position as Sweden's Minister of Culture. Those participating are among others, Dariush Moaven Doust (moderator), Makode Linde, Dror Feiler, Joanna Rytel & Elin Wikström. The panel takes place 10.00-14.00. Lunch is at 12.00.
Dariush M Doust is a psychoanalyst, a Doctor of Philosophy, and previously a lecturer in art theory at Valand Art Academy. He is a member in the art collective ARC and founded the non-profit Kurrents.
Makode Linde is a DJ and artist. He is educated at Konstfack and the Royal College of Art in Stockholm. He has produced a series of artwork called Afromantics. In April 2012 he became known after his performance/installation as a cake at Moderna Museet which the Cultural Minister had to cut through.
Dror Feiler is a musician, composer, artist and political activist. He was born in 1951 in Israel and has lived in Sweden since 1973. In 2004 his art installations "Snow White and the Madness of Truth" created together with Gunilla Sköld Feiler (that was vandalized by the Israeli ambassador to Sweden) rendered him international attention.
Joanna Rytel is a Swedish artist, born in Warsaw 1974. She studied at University College of Art and Design in Stockholm. In 2000, along with Fia –Stina Sandlund, stormed the Miss Sweden pageant under the name Unfucked Pussy. She gained notoriety as did her catch phrase, "man slime."
Elin Wikström is an artist based in Gothenburg, Sweden. Her work – with roots in performance, conceptual, and context based art – deals with being subjected to a constructed situation, which leads to reflections on social issues and include her own participation, along with collaboration and exchange with those who commissions her work, audiences and specially invited participants.
10.00-14.00 June 10th at House of Win Win, Tredje Långgatan 13b, Göteborg. Free entry with festival pass, otherwise 80kr at the door if there is space.