Jagwa Music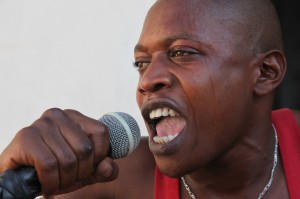 On their debut album "Bongo Hotheads" (out April 2012 on Crammed Discs, the same label which previously released recordings by the likes of Konono No 1 and Staff Benda Bilili), Tanzanian group Jagwa Music create hypnotic dance sounds dominated by distorted keyboard lines and homemade percussion instruments. It can be described as a sort of acoustic rave adrenaline rush from beginning to end. Jagwa Music has existed since 1992, but until recently their recordings have  been available exclusively on cassettes sold in the street markets of the band's home town of Dar es Salaam. Swahili is Jagwa Music's mother tongue and interviews in other languages are rare. Clandestino sent a couple of questions to the two band leaders, Abdalla Gora and Abdul Jolijo.
Tell us about Jagwa Music: how and when did it begin?
– Jagwa was formed in 1992 when we split from an earlier group. The style at the time changed with the availability of the small Casio keyboards that still form the core sound of mchiriku.
Where is this music played, by whom, and under which circumstances? It seems to be music for partying and dancing…?
– Mchiriku is played at family celebrations like weddings or the initiation of young boys, etc. The performances are usually on the front porch of a house, the megaphones extending out into the streets or empty spaces between buildings. That way the family announces to the neighborhood that they have something to celebrate. 
In Dar es Salaam the performance has to wind up around 8:30 pm because of current local regulations. Earlier on and still in the smaller town and villages around Dar the performance usually continues until day break. Of course it is music for dancing/partying, and people are having a good time also with alcohol or a smoke!
How has the music changed over time? And what influences your directions in music?
– The sound of mchiriku and the whole arsenal of percussion come straight out of Zaramo culture (the major ethnic group living in the Dar es Salaam area), of late mchiriku has become much harder in terms of sound and attitude.The distorted keyboard sound comes from the amplification which is via megaphones. Mazinge the main drummer has added two more bass drums, making for a more bottom heavy and driving sound. Singer Jackie names as his inspiration singers from the local dance music orchestras as well as taarab singers. Casio player Daliki names Congolese solo guitarist Dally Kimoko as one of his main inspirations.
A lot of your music is only available on cassettes in Dar es Salaam. Is this usually how mchiriku music is distributed? Or is it also played on the radio? Would you describe your music as "underground" or mainstream?
– Jagwa's songs have been released on 15 cassette albums. The songs are not played on the radio however, the usual sound you hear today is what is called Bongo Flava, Swahili rap and hip hop or R&B. But Jagwa's songs are well-known by many and they have a large following around town.
Can you tell us something about the subject matter of the lyrics?
– We sing about life in Dar es Salaam, what happens to the majority of people, like use of drugs or alcohol, the hardships of life. A message: One of our songs says "you can live anywhere in this world if you really try to work hard and have some kind of perspective". Of course we are young so not all is that serious, we like to party as well and that is what mchiriku is all about. People like the message of the songs, but then you also want to have some fun, dance and maybe forget about some of the troubles that you might face tomorrow.