R;Zatz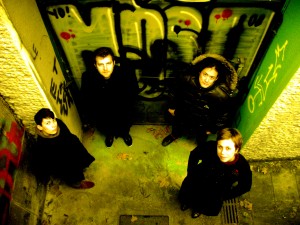 One of the groups associated with Lyon-based label Jarring Effects: a collectice of independent musiciams and sound artists / activists, often exploring the territory between electro dub and a more beats oriented, urban music (High Tone, Scorn, Ez3kiel). The members of this French collective share a wish to be autonomous and to be an alternative to the culture industry. The musicians of R;Zatz are deeply connected in this movement: one member as the label's sound engineer, others play in several of the bands.
R;Zatz (pronounced Ersatz, German for replacement) started ten years ago as a number of colaborations in the recording studio of Jarring Effects. The band has tried a number of styles since then, and has made music in several fruitful cross pollinations with other artists – one of which is the electro cinematic project kinikik with VJ group Pixelles.
The live version of R;Zatz consists of Marilou (of the band Mensch) on vocals; Takeshi (of Asian Z), guitar; Mathieu (of Kaly Live Dub), drums and Céline who treats, expands and distorts the sounds from the musicians in real time, using an assortment of effects and loops – a classic live dub constellation, in other words.
On its album "Cruel Summer" from 2011, the quartet has found a quiet, cinematic minimalism that sometimes makes one think of a crackling, Portishead type of gloominess. Other tracks lean more towards a jazzy, Tortoise-esque ninetees vibe. Marilous voice can be mysterious and sombre in one song and soulful with a warm vibrato in others. Takeshi's guitar is a cold steel wire, Mathieu's jazzy drum chops are interwoven with spooky beats sampled and looped by Céline. While the uncanny atmosphere reminds of the dream scene in some David Lynch movie, there is also a sense of prescence which comes from the fact that this music is created here and now. In a sense, the musicians become actors in a partially improvised film made of chords and rhythm.